Hôtel-Restaurant Pic - Maison Pic
Hôtel-Restaurant Pic - Maison Pic
Hotel-restaurant
Hôtel-Restaurant Pic - Maison Pic
Address
285 avenue Victor Hugo
26000 VALENCE
Contact
Languages spoken
Description
La Maison Pic, le luxueux hôtel 5 étoiles de Anne-Sophie Pic, notre cheffe étoilées en France et à l'international, se situe en plein cœur de la ville de Valence, sur l'avenue principale Victor Hugo. A quelques minutes du centre ancien, avec ces commerçants et son patrimoine historique, La Maison Pic vous réserve un havre de paix et de tranquillité.
Les chambres, tournées vers un patio végétalisé, vous promettent un confort et une invitation à la paresse, en toute intimité. Chaque chambre, unique, est conçue pour vous, pour un séjour calme, chic et contemporain.
Les salons, espaces de vie commun et convivial, vous invite à vous laisser aller, à prendre le temps de lire, de boire un verre ou tout simplement de discuter. Par beau temps, les extérieurs vous propose de vous installer à une des tables, bordées d'une végétation luxuriante, palmiers et bambous, plantes fleuris et arbustes vous dépaysant. Suivez le sentier jusqu'au fond du jardin et laissez vous tenter par une baignade dans la piscine.
Pour vos repas, demandez la carte du room-service ou bien venez vous installer dans l'un de nos restaurants au rez-de-chaussée de l'établissement : Chez André, brasserie de Anne-Sophie Pic, ou bien au restaurant 3 macarons Michelin, pour émerveiller vos papilles. Pour les beaux jours, demandez à être installé dans le patio. Sa majestueuse table en bois y trône ainsi que les tables disséminées par ci par là au grès de la végétation.
Pour résumer votre futur séjour au sein de la Maison Pic : luxe, calme, volupté, mais il faut ajouter l'esprit, contemporain, chic, impertinent parfois. Le confort absolu et… le style.
The comfort is without concession and as for the style ..... here, you are emphatically not at home and so you will find accommodation which does not resemble anywhere else. These interiors involve a journey, a notion of otherness and an invitation. Anne-Sophie PIC has also opened a cookery school, called Scook, 100 metres from the restaurant.
Facilities
Capacity
32 people
16 rooms
Facilities and services
Swimming pool

Lift

Terrace

Garden

Shelter for bikes/mountain bikes

Pets welcome

Mini-bar

Air conditioning

Wifi / Internet access

Television

Parking / Garage
Rates
Double room: 290 to 470 €
Twin room: 290 to 470 €
Single room: 290 to 470 €
Suite: 460 to 600 €
Breakfast: 33 €
Supplementary payment for pets: 45 €
Tourist taxes: 4 €.
Tax not included.
Methods of payment
Cash
American Express
Bank/credit card
Check
See also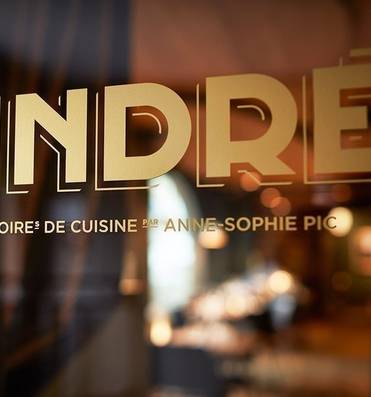 43 €
380 €