La Baume-Cornillane
Address
26120 LA BAUME-CORNILLANE
Contact
Languages spoken
Description
The small village of La Baume-Cornillane is the starting point for numerous hikes and the not-to-be-missed trail to the "center of Pangaea".
Une des plus petites communes de l'agglomération, La Baume-Cornillane, abrite des trésors paysagers et historiques. Située au pied de la Raye (Vercors), la Baume-Cornillane offre des points de vue remarquables sur la vallée. Le nom de La Baume-Cornillane (Balma cornillon) est dû à la présence d'une grotte dite de la Dame (Catherine de Cornillan) de la famille des seigneurs locaux dont les armes sont trois corneilles.
Sites remarquables ou pittoresques
- La Pangée : M. Monod, géologue, détermine le centre de la Pangée originelle à La baume- Cornillane (anecdote) et ce centre peut être symbolisé par un rocher redressé qui a été mis à l'honneur en 2001 par une signalétique même si cela reste anecdotique. Rappelant cet événement, un gâteau sec, « la Pangée » a été élaboré par un pâtissier chabeuillois, M. Brun.
- Panoramas et points de vue
. La Pangée : Le centre du monde, de la Pangée signalé par ce fameux rocher incliné est également un sentier de randonnée le long des crêtes au pied du Vercors.
. Le Donjon : point du vue sur toute la plaine de Valence.
© Service Patrimoine - Pays d'art et d'histoire - Valence Romans Agglo
See also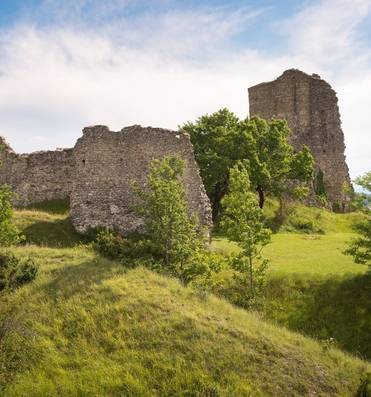 Cultural heritage
La Baume-Cornillane
Equipment
La Baume-Cornillane