Visite commentée du Musée de la Pogne Pascalis
Visite commentée du Musée de la Pogne Pascalis
From 3 January to 30 December 2023
Visite commentée du Musée de la Pogne Pascalis
Address
Maison Pascalis
86 Grand'rue Jean Jaurès
26300 BOURG-DE-PÉAGE
Contact
Languages spoken
Description
Venez découvrir la saga de la Pogne Pascalis ! Visite des ateliers de fabrication avec projection d'un film sur la célèbre brioche datant du Moyen-Age, suivi d'une dégustation.
Une visite immersive !
Plongez au cœur de l'histoire d'un emblème gastronomique du Nord-Drôme, la Pogne de Romans. Vous découvrirez les secrets de fabrication de cette brioche millénaire dans les murs d'une boulangerie familiale centenaire, la Maison Pascalis.
Nous voulons que ce savoir-faire ancestral soit transmis afin qu'il perdure le plus longtemps possible. C'est pour cela que nous vous proposons une visite 100% gratuite qui vous permettra de vous évader en découvrant les produits de notre magnifique région.
Visionnez un film pour en apprendre plus sur nous, découvrez notre histoire à travers les différents supports du musée et terminez en beauté par une dégustation de notre spécialité…
Opening periods
From 02/01 to 30/12/2023
Schedules of guided tour between 9 am and 10 am and between 3 pm and 4 pm.
Closed Monday and Sunday.
See also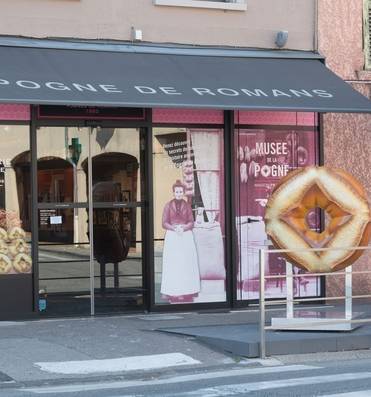 Cultural heritage
Bourg-de-Péage