Etoile Park 26, the place to be in summer
Are you looking for a place to go on a Sunday when it's hot? Come and see for yourself this leisure complex in the Drôme: Etoile Park 26. There is a wide range of activities that the whole family will enjoy. I come back here every summer to have fun at this complex in Etoile-sur-Rhône, just 15 minutes from Valence. I still remember the first time a friend told me about this place. A complex with a lake in the great outdoors, with loads of fun activities on offer, I had to come and see it!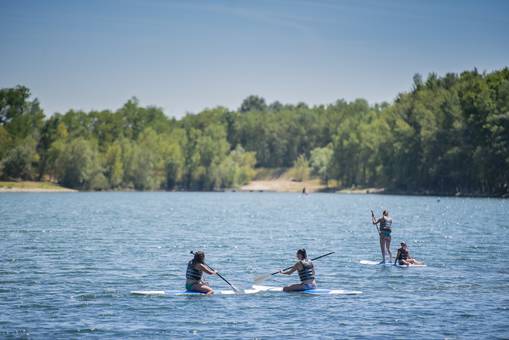 A place to have fun
I've been here a few times as a couple, with friends or family and I've never been disappointed. It's a very relaxing place and there's something for everyone to do: inflatable structures, kite-surfing, tubing, paddle-boarding, pedalo boats, etc. It really is the place to be in the summer. The first time I came to Etoile Park 26, I tried out paddle-boarding on the lake. It's not as easy as it looks to keep your balance and use the oar at the same time! Then, the next time I tried kite-surfing. I must admit that at first I spent more time in the water than on my board! But one of the instructors really helped me improve. Thanks to the advice I was given using an earpiece, I was able to get in the right position, stay on the board and even turn. I never believed that it was possible to learn the basics in just 15 minutes!
For a really fun experience with your family, I would recommend the inflatable structures. This aquapark covering 1,000m2 is suitable for children over the age of 6 who can swim! There's just one fun activitiy I haven't tried yet and that's tubing. I plan on trying it very soon with my family. It looks like a lot of fun and I think we'll really enjoy ourselves!
Less strenuous activities
If you are looking for activities out of the water, the complex also provides petanque pits and beach volleyball courts adapted to all sorts of ball games.
Finally, you'll also find a snack bar with pancakes, sandwiches, chips, soft drinks, etc. It is a rustic establishment in the style of a traditional "guinguette", very pleasant and absolutely not pretentious at all. There are even musical evenings organised there.
Shall we meet up at this leisure complex this summer?