The Shoes Museum for kids
The International Shoes Museum in Romans is in the former convent of the Visitation order. Here, the history of the shoe is presented through a vast collection of original shoes. Adults will find the exhibitions particularly interesting and there are also discovery workshops organised especially for children.
I really like this museum and I come here often. I wanted to bring my grand-children here, aged 6 and 9, but I wasn't sure they'll be interested by the standard tour. They'd need something fun.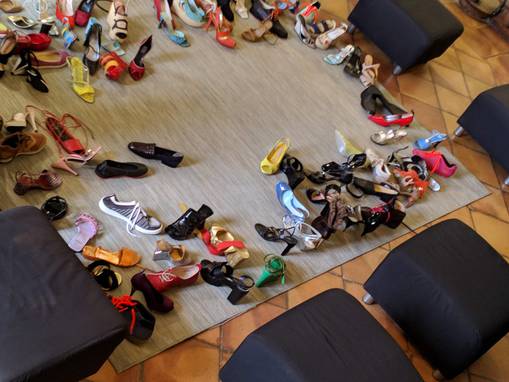 A fun visit for children
The museum offers special tours, designed for children: kid's workshops to turn this into a fun moment for them, while still giving them a cultural experience. So I decided to take my grand-children there in the school holidays.
When we arrived, we were welcomed by Claire, our friendly guide. She explained that we would be able to access the whole building, just like a standard visit. Then off we went for an original and fun experience!
The children were amused by the very original shapes and materials of the shoes on display! Some of them are a reference to myths and legends, the children were intrigued. They wanted to know more about the seven-league boots, the shoes made for tiny Chinese feet, Fakir's sandals, etc. Claire was very patient and listening carefully to the many questions they had, managing above all to keep them interested! 

Creative workshop
But she knows full well that she'll need to really pull out all the stops to keep them interested and attentive. After this fun tour, it's now time to unleash their creativity!
Claire leads them to a room where they can design their very own shoes. She provides all sorts of different materials. Cardboard, feathers, rhinestones, coloured paper, stickers, etc... my grand-children really got stuck in and created their work of art! They were cutting, drawing and sticking… they were in their own little world!
Finally, the children had some time to try the shoes on! I took some photos so we'll remember this great experience.
After the tour and workshop, we took a stroll around the magnificent French-style gardens. The children needed to let off some steam.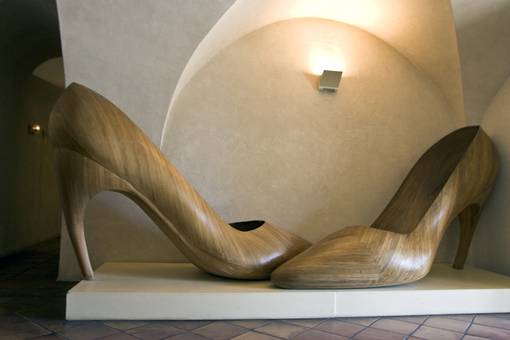 The day came to a close, it went so fast. The children seemed to really enjoy themselves at the Shoes Museum! Our tour was a successful and it was a great way to get the children to do something cultural and for them to learn something new.