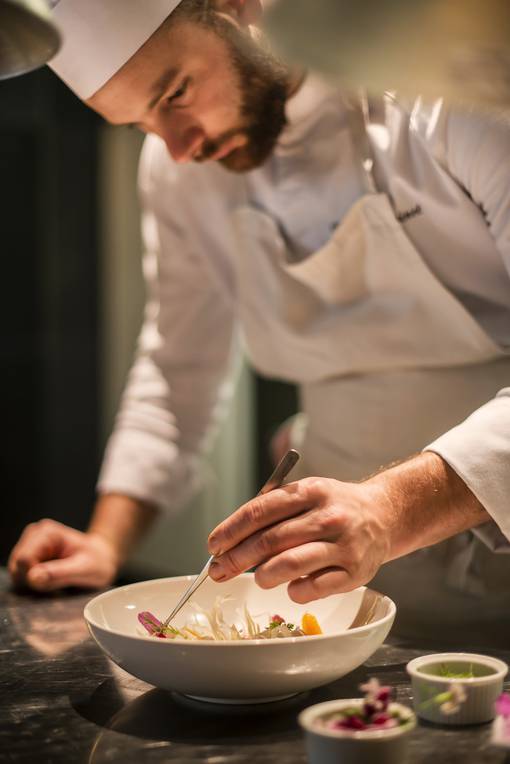 The restaurant André is in the town of Valence, near the town centre. The dishes are all concocted by chef Anne-Sophie Pic, the only female French chef to have been awarded three Michelin stars, and is native of Valence.
This restaurant is a tribute to Anne-Sophie Pic's grandfather who was also a chef with three Michelin stars. It is open every day for lunch and dinner.
I strongly recommend you book a table in the summer season. If possible, request a table in the outdoor seating area. It is a pretty little courtyard full of trees and very charming, behind the restaurant for a pleasant experience and a breath of fresh air. My partner first took me to the restaurant André for my birthday. We received a very warm welcome from the friendly and extremely professional staff. We immediately appreciated the chic yet modern atmosphere. The wooden flooring and ceilings add a warm, pleasant touch. The restaurant André serves traditional cuisine and it is great value for money. The set menus begin at a price of €33. There's even a kid's menu at the affordable price of €15.
We were served some small slices of Fougasse bread to dip in olive oil, as a little snack while we waited to order. To accompany these light bites, I chose a small glass of very sweet "syrupy" wine. Then we enjoyed our excellent quality and wonderfully presented dishes: cream of courgette and a prime rib of beef for 2.
We finished with an absolutely delicious dessert: a chocolate finger with pear sorbet. We really enjoyed our meal and we'll definitely go back one day! I really liked the atmosphere of this chic yet friendly bistro. Therestaurant André is a place I would recommend in Valence. You'll be able to taste some top quality dishes at affordable prices, whether you come as a couple, as a family or with friends.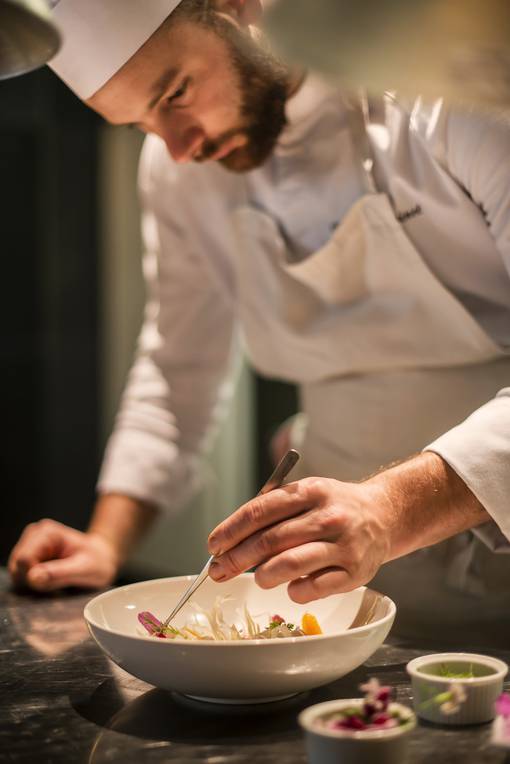 Le restaurant André est situé sur la commune de Valence , proche du centre-ville. Les plats sont confectionnés par la cheffe Anne-Sophie Pic, seule femme cheffe française triplement étoilée au guide Michelin et originaire de Valence. 
Ce restaurant est un hommage au grand-père de Anne-Sophie Pic, lui-même chef et détenteur des 3 étoiles au guide Michelin.  Il est ouvert tous les jours midi et soir.
Je conseille vivement de réserver lors de la belle saison. C'est l'occasion de demander à être placé en terrasse. Cette jolie petite cour arborée et très charmante derrière le restaurant est très agréable et offre un véritable bol d'air frais. Mon conjoint m'a fait découvrir le restaurant André à l'occasion de mon anniversaire. Nous avons reçu un très bon accueil du personnel, souriant et très professionnel. Nous avons tout de suite apprécié cette ambiance à la fois chic et moderne. Le parquet au sol et le bois au plafond donnent une touche chaleureuse et agréable. Le restaurant André propose de la cuisine traditionnelle avec un très bon rapport qualité prix. Les formules commencent à partir de 33 €. Même les enfants ont droit à un menu pour une somme tout à fait correcte : 15 € 
Pour la mise en bouche, nous avons eu droit à des petits morceaux de fougasses à tremper dans de l'excellente huile d'olive.  Pour accompagner cet apéritif, j'ai opté pour un petit verre de vin liquoreux et très sucré. Nous avons ensuite dégusté des plats excellents et soignés :  un velouté de courgettes et une côte de bœuf à partager à 2.
Nous avons terminé par un dessert absolument délicieux : un finger au chocolat accompagné d'un sorbet à la poire. Nous avons passé un très bon moment et j'y retournerai c'est sûr ! J'aime vraiment cette ambiance bistro chic mais conviviale. Le restaurant André une très bonne adresse à Valence. Vous y savourerez des plats raffinés à des prix très abordables, que ce soit en couple, en famille ou entre amis.