Guided tour of the 1083 production workshop
1083 is a company in Romans-sur-Isère making jeans that are 100% French. The French jeans 1083 came about thanks to the founder Thomas Uriez who wanted to create a product that was entirely locally made. 1083 represents the distance between the 2 French towns the furthest away from each other. The philosophy of the brand is that the distance between where the jeans are manufactured and the consumer should never exceed 1,083 km.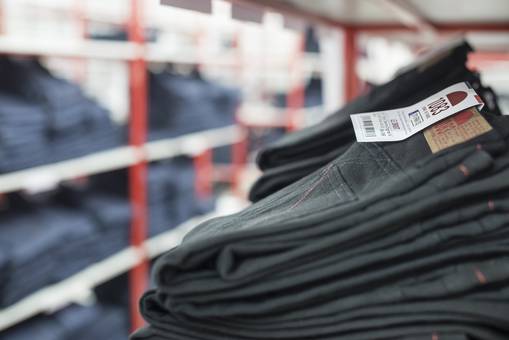 Made in France, the cornerstone of the project
This idea is not as easy as it may seem when you consider that a standard pair of jeans travels up to 65,000km from the place it is made! On top of that, the textile industry has almost completely disappeared in France. But this time, the risk paid off and this completely French-made brand is highly successful.  I wanted to find out more about this concept and the manufacturing secrets behind it. You can take a tour of the production workshop and see the machines used and the jeans being made! There are tours all year round but not necessarily according to a regular schedule: there are several tours throughout the year (1 or 2 per month) and more often than not, they are held on Friday afternoons. You can ask for more information at the tourist office or sign up online below. I had the opportunity to discover the workshop when I went on a guided tour with a group of fifteen people.
Visiting the 1083 production workshop
When we arrive we are welcomed by a guide. Before going into the workshop, we see a sort of bicycle to the left of the entrance with a map in the background, showing the company's key goal: to respect the maximum distance of 1,083km in the production of their jeans. Then we see a set of racks with jeans piled up ready to send to customers who had placed online orders. At the back of the room, the quality department is checking that the products are compliant.
Further on, a team of seamstresses is busy working in a second room. We can see the different machines that are all red, just like the 1083 logo! Throughout the tour, we have the chance to talk to the employees. The 3rd room is where, since 2016, they've been using the very first laser denim washing machine in France. Normally the process of washing the denim involves a large quantity of chemicals, sand and water. Now, this can be done with no impact on the environment, thanks to this new machine.

This business may be booming but it remains modestly-sized and works in an ethical way. Anyone interested in sustainable consumer behaviour, looking for 100% "made in France" products, with a focus on local production will enjoy the tour of the French jeans 1083 production workshop.