Le Tonneau, a mobile wine cellar
After working in Mexico for 7 years, Benoît came back to France with a very specific idea in mind. He wanted to be his own boss and was looking for an original concept.
An original bar
He took his inspiration from the food trucks that were gaining popularity all over France. He chose to apply this concept to the wine sector. And this gave him the idea to create a mobile bar in the shape of a giant barrel! Le Tonneau was born.
It's a beautiful creation from a family of woodworkers from the city centre of Valence. You can't miss it, passers-by are immediately drawn to it! Inspired by the woodwork of a boat, it is 4 metres long and 2.5 metres wide. It was built using 210 wooden planks and 60 cross members held together with 1,500 screws.
Since September 2018, Benoit has been travelling across the area. He has a few locations in the towns, and is also present at the traditional local markets. In the summer, he organises giant picnics at the Espace Girodet . It is even possible to hire Le Tonneau for private events such as a wedding or party!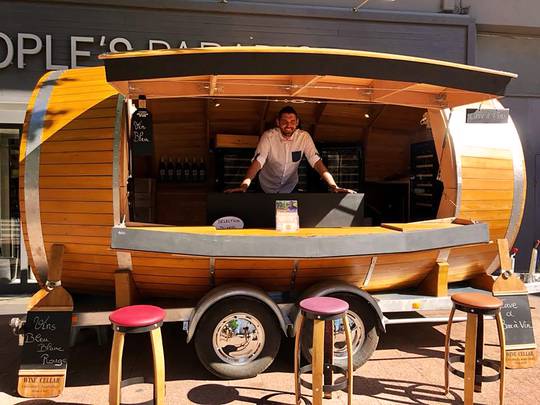 How I discovered this concept
I first saw Le Tonneau at a flea market in Beaumont-lès-Valence. Then, I went to see Benoît again at the Bourg-lès-Valence Christmas market. 
I tasted some of his wines. My absolute favourite at the moment is Le Vindigo! It is a Mediterranean Chardonnay with a blue-lagoon colour and is 100% organic. The colour comes from a second maceration process using extracts of grape skins that naturally contain anthocyanin pigments. If, like me, you enjoy fruity wines with cherry or raspberry flavours, then this is the wine for you. There are of course others to taste too, to be enjoyed in moderation of course.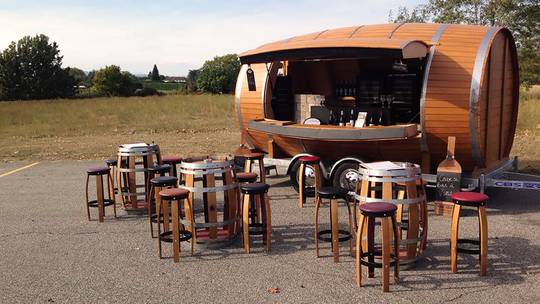 Come and taste these wines for yourself. You won't be disappointed with this original concept.