Morning: to Romans by bicycle
•    You'll leave Valence and head north along the ViaRhôna. 
•    You'll ride alongside the Rhône until you reach Pont d'Isère.
•    Then take the green cycle path to Romans-sur-Isère.

Lunchtime: lunch in an Italian restaurant
•    For your lunch break today, you'll discover a little Italian restaurant. Il diciotto , Avenue Gambetta in Romans, serves excellent pasta dishes. It's the perfect way to recharge your batteries after a morning of exercise.
Afternoon: "Entre Joyeuse et Collines" itinerary

•    It's time to get back on your bike and follow itinerary 11 "Entre Joyeuse et Collines" . 
•    You'll cross through several villages and climb up a small hill. If it's a sunny day, the area and panoramic view will make all that pedalling worthwhile. 
•    Stop off in Triors at the Domaine de Château Vieux . You can take part in a wine tasting session there. To be consumed in moderation because you'll need to cycle back to Valence afterwards.
•    Once you reach the end of this itinerary, you'll head back to Valence along the same route that you followed in the morning.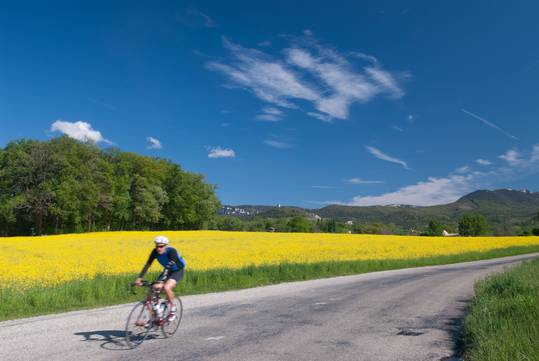 Other ideas for trips with friends...