Top 10 restaurants with friends
These top 10 restaurants I'm presenting to you are not part of an official classification, they are just my own personal top 10 restaurants that I like to go to with friends!
L'Auberge du Vieux moulin
After leaving the Route de Crest, take a small road that crosses through the fields and you'll arrive in this authentic place, which as its name suggests, is a former windmill (moulin in French). My favourite dish there is frog's legs, but you will also find some more traditional dishes and huge desserts.
L'Auberge du vieux moulin - Les Dourcines, 26120 Montvendre - +33 (0)4 75 59 06 17
Le lièvre et l'escargot
This is a very pleasant small restaurant in the town centre, perfect for groups of friends. It is small so there aren't many tables so I recommend you book one in advance. All dishes are local. The owner is very friendly and welcoming, the service is impeccable and the dishes are delicious.
Le lièvre et l'escargot - 6 Grande Rue, 26000 Valence - +33 (0)6 70 65 58 70
Le Comptoir des Loges
This restaurant, Le Comptoir des Loges, is in the lower part of Romans sur Isère, a stone's throw from the Côte des Cordeliers. It is one of the last remaining café-restaurants from the town's Roman history! It is decorated with taste and the outdoor seating area is ideal in the summer. A must-see!
Le comptoir des loges - 76 rue Saint Nicolas, Romans-sur-isère - +33 (0)4 75 45 40 92
Un tablier pour deux
A very friendly couple own this establishment, she is in the kitchen and he is out front serving in this bistro-style restaurant. They offer a warm welcome and an attractive menu full of fresh, local and carefully prepared dishes. You can also book out the restaurant for a private event, or use their takeaway service that has recently been introduced by the owners.
Un tablier pour deux - 164 Avenue Victor Hugo, 26000 Valence - +33 (0)4 75 44 14 68
Le Café de la Poste
Hearty salads, fantastic pizzas and "gratin de ravioles"... there's something for everyone at Le Café de la Poste! As soon as the weather permits, the outdoor seating area is very pleasant and overlooks the town hall. On Tuesdays, the Café de la Poste comes to the local market, remember to book a table.
Le café de la poste - 5 place du Général de Gaulle, 26000 Chabeuil - +33 (0)4 75 59 02 62
Le Vieux Four
This restaurant is in Etoile-sur-Rhône, a stone's throw from the fortified gates of the Château de Diane de Poitiers. They serve inventive gourmet cuisine using fresh, local products. The outdoor seating area is superb so we recommend going on a sunny day so you can take advantage of this area!
Le vieux four - 1 place Léon Lerisse, Etoile-sur-Rhône - +33 (0)4 75 61 45 71
Les Halles de la mer
Are you a fan of seafood? Good fish? Are you looking for a good place to go? Look no further. Les Halles de la Mer is the place for you! You'll find all these great products, as well as a shop where you can come and buy fish or platters just like the ones you'd find at the fishmonger's, then take them home to enjoy.
Les halles de la mer - 21 Bis Rue du Dr Abel, 26000 Valence - +33 (0)7 78 51 83 38
Il Divino
I can guarantee that this Italian restaurant is worth the detour! On the menu you'll find all the usual Italian dishes, all made using fresh and seasonal produce! Delicious! It is in the ideal location, on the banks of the Isère in the lower town of Romans, a stone's throw from the Saint-Barnard collegiate church.
Il divino - 48 Quai Chopin, Romans-sur-Isère - +33 (0)7 69 96 27 35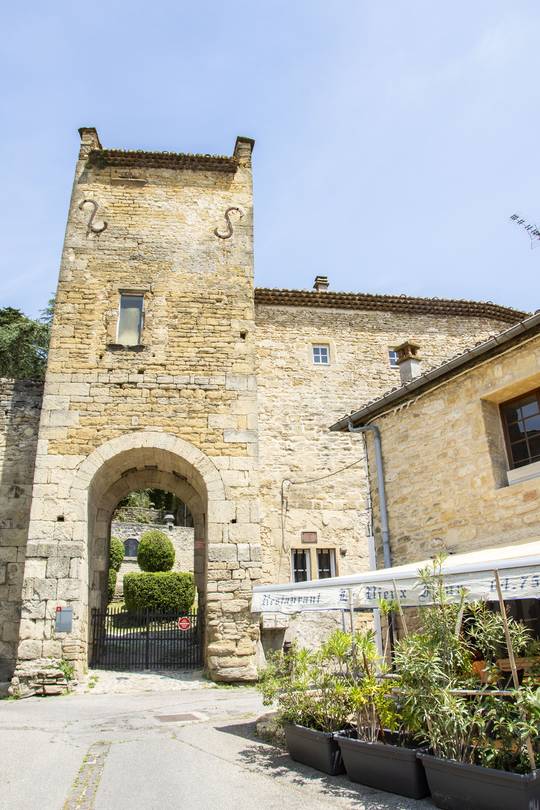 Aix & terra restaurant and grocery store - Marques Avenue
Aix & Terra only recently opened at Marques Avenue, in the town centre of Romans. This brasserie serves a selection of recipes with the added Aix & Terra original touch. One of their particularly popular dishes is ravioles, either à la provençale, creamy, with truffles, or as a gratin. This is the perfect place to try some local specialities, in an original way!
Aix et terra - 60 Avenue Gambetta Romans-sur-Isère - +33 (0)4 75 05 85 29
L'Atelier du Burger
The name gives it away but here you can try some really good burgers, with colourful buns and delicious French fries. There's a wide range of burgers on the menu, so you'll find it difficult to choose just one, you'll have to come back again.
L'atelier du burger - 9 Faubourg Saint-Jacques, 26000 Valence - +33 (0)4 75 86 11 50
It was difficult to choose just 10, but here is list of great restaurants to go to with friends! Come and try them today!