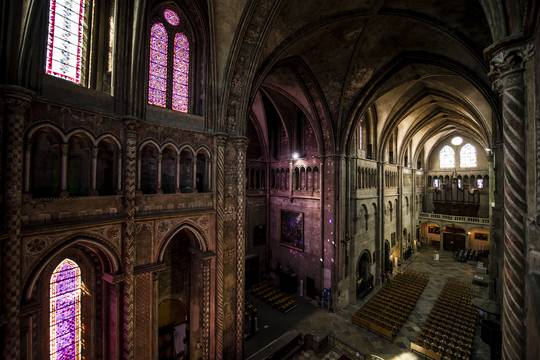 The history of Saint-Barnard Collegiate Church in Romans
Saint-Barnard Collegiate Church is at the entrance to the town of Romans-sur-Isère. It was built using molasse, a yellowish sandstone that is specific to the region, which has a beautiful appearance but is not very robust. It was built in the year 837 by Mr. Barnard, the archbishop of Vienne at the time. The name Saint-Barnard was bestowed to the church over the decades that followed.
Several times over the collegiate church was rebuilt, restored, extended, raised and today we can see the results of this work that took place between the 11th and 18th century.
Saint-Barnard Collegiate Church: construction & heritage
The collegiate church can be attributed to Roman times, for the lower part of the nave (semi-circular arcatures, narrow buttress), and to the Gothic era for the upper section (large windows with triple pointed arch for the nave and transept, flamboyant-style openings for the side chapel and the top of the bell tower). The bell tower is 36m high and there is a hexagonal stairway tower to access the 4 bells (one of which dates from 1610).
14th-century wall paintings can be seen in the choir. The chapel of Saint-Sacrement houses a treasure of Roman heritage; we enter through a 12th-century door and come face-to-face with eight embroidered and painted wall hangings (silk and wool thread on a painted linen canvas), dating from 1555. These artworks illustrate the mystery behind the Passion and Resurection of Christ (which can only be unveiled with the Pays d'Art et d'Histoire guide). 
In 1840, Mérimée listed the church as a Historical Monument but this did not prevent the municipal councillors from having the cloister destroyed to make way for building the banks of the Isère. Only the north gallery was saved temporarily. The mayor at the time was given the approval to destory the remaining gallery in 1863, thanks to support from authorities in high places.
Recent renovations were made using whiter stone rather than molasse. From Bourg-de-Péage you have one of the best views of the collegiate church and the banks of the Isère.