You mustn't forget to stop by Peynet Bandstand in Valence! This magnificent bandstand, on the esplanade at Champ de Mars next to the historical town centre is the most famous monument in Valence and is an iconic symbol of the town.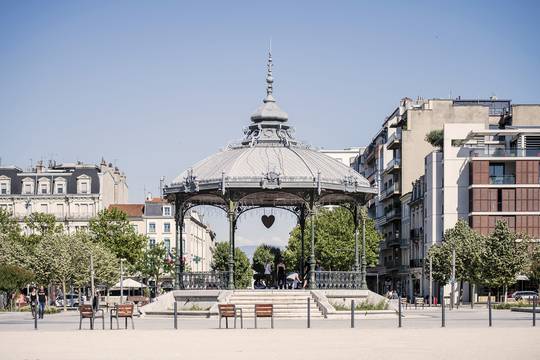 Peynet Bandstand and the panoramic view
Peynet Bandstand overlooks the vast Jouvet Park , a botanical garden that bears the French "remarkable garden" label, covering 7 hectares and stretching as far as the hills beyond the Rhône where you'll find the magnificent  Château de Crussol . You'll have a breath-taking and exceptional view over the Ardèche and it's a fabulous place to watch the sunset!
The story of the lovers of Peynet
This bandstand was originally built in 1862. The current one you can see today was designed by Eugène Poitoux and dates from 1890. This architect also designed the civil and military hospitals of Valence, as well as the monumental fountain that can be found on the corner of the main boulevards.
But the bandstand actually became famous thanks to French cartoonist Raymond Peynet in 1942. He was in Valence for business, and found himself drawing a violinist who was playing a solo up on the platform of the bandstand. A slight young girl was listening to him, gazing up in admiration. This was how the lovers of Peynet came to be. As for the bandstand, it was named the Peynet Bandstand in 1966 when the cartoonist came back to Valence.
Peynet Bandstand - a very popular place
The drawing immediately drew a lot of attention to the bandstand. This popularity may have been sudden, but it was to last. The lovers of Peynet was a global success and went on to be used as the muse for a number of objects.
Peynet Bandstand has been listed a historical monument since 1982. 
Come and take a stroll along the Champ de Mars to admire the lover's bandstand. You can't possibly come to Valence without seeing this landmark! It's also a great place to take some superb photos.