Whether you're in the area for a weekend, holiday or you live here, it's impossible not to find yourself wandering around the markets in the Drôme, to discover the delicious products on offer.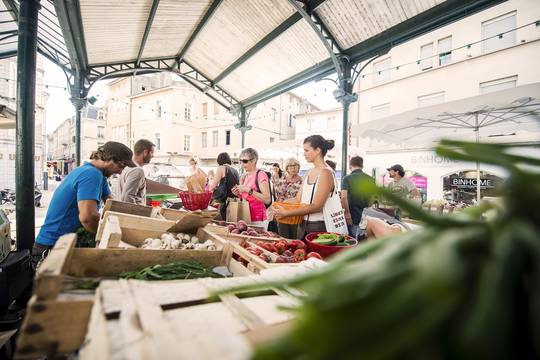 The local markets of the Drôme: great for the local economy
Did you know that 4% of the food shopping of households throughout the Drôme comes from the local markets?
This is a significant figure, proof that the local people are keen on going to their local markets. 
Whether it's the big markets in the town centre, the smaller village or neighbourhood markets, farmer's markets or markets with clothes, books or other treasures, it's always a great pleasure to fill your basket, taste the delights on offer and share this moment with friends or family.
The local markets of the Drôme: a unique atmosphere
It's a real pleasure to wander around the town centre and stop off at the local markets. The colours, people passing through, all sorts of products, the smells and spices all contribute to this fantastic atmosphere, that can't be found elsewhere.
It's like the whole town has been condensed into one small area. All the treasures of the town can be found on the market. They are often held at the traditional town squares, and in taking a stroll around the various stalls, you can encounter the friendly locals, the smiley and good-humoured stall owners, the organic products straight from the local farms, and regional and local specialities.
The local specialities of the Drôme
How could you not give in to temptation and either taste or buy these top-quality specialities that we highly recommend. Here are some of the best ones:
juicy and sweet fruit, including the peaches or cherries from the Drôme, 
vegetables from the local farms, 
meat and deli meats, you can't possibly come here without tasting caillettes or ravioles
olives, including the Nyons olives
regional cheeses such as picodon or Saint-Marcellin, 
the famous "pognes" and "suisses" that are generally eaten for breakfast or an afternoon snack, 
plants, ready-made meals, and so much more.
You are guaranteed to find a speciality you like. Whichever dish you go for, you can expect an authentic and pleasurable experience.
Come and discover the top 10 local markets in the area! Wherever you are staying, you will always find a nearby market to come and taste our best local specialities.