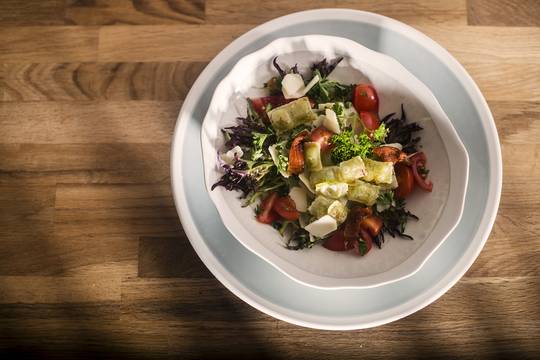 Ravioles of Romans: quite a history
The ravioles of Romans are a local speciality dish made from square-shaped pasta filled with cheese and parsley, and boiled in water. They are very similar to the Italian ravioli. The story of how this famous dish was created suggests that Italian coal merchants and woodcutters, who had come to Royans-Vercors to work, quite simply transformed their traditional ravioli by replacing the meat (which was rather rare in France at that time!) with goat's cheese. The image of the "poor man's ravioli" was quickly forgetten however, because this dish was developed into a traditional meal for celebrations. At that time (beginning of the 20th century), professional chefs specialised in this dish and turned it into a popular local speciality.
"Mère Maury" (Marie-Louise Gélibert) was one of these very first chefs to specialise in ravioles and offer this speciality in her café-restaurant.
In the years 1910 - 1920, the local people of Romans also associated ravioles with some well-known local names. At the beginning of the 1930s, Emile Truchet open her café-restaurant at the Place Jacquemart in Romans, and put ravioles on the menu. A travelling Italian singer and accordion player came to visit the town. Emile got to know this visitor and he was invited to go and see how Italian pasta was made using machines: this was how the very first ravioles machine was designed, based on the Italian one, by local craftspeople from Bourg-de-Péage, a town next to Romans-sur-Isère.
In 1935, Truchet presented this mechanical approach to making ravioles to the press for the first time. After the Second World War, the ravioles of Romans were found on the menus of all the good restaurants. In the 1980s, this speciality dish became both a standardised and diversified industrial product, thus widening the horizons for the product beyond a homemade, local speciality of Romans.
Today, there are more than 50 brands that produce ravioles across France. You can taste ravioles with some unique and varied fillings like boletus, snails or foie gras, or combined with some other local specialities such as caillette, truffles, and even with chocolate fillings for those with a sweet tooth!
Ravioles of Romans, a speciality from the Drôme
Where can we taste this delicious dish? 
To take home: 
La Mère Maury – 38 rue du Président Félix Faure, Romans
Saint Jean - 44 avenue des Allobroges, Romans
Raviol'Adie - 141 rue des Clochers in Montmiral
At a restaurant: in Romans or Valence
La Villa Margot - 57 Avenue Gambetta, Romans-sur-Isère
Café des Arts - 20 Côte des Masses Romans-sur-Isère
Le Mandrin (for their ravioles gratin with boletus!) - 70 Rue Saint-Nicolas, Romans-sur-Isère
La Ravioline - 18 Rue Dauphiné, Valence