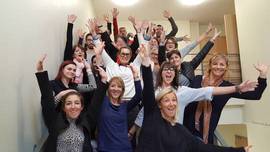 The team at Valence Romans Tourist Office is passionate, dynamic and inquisitive. They are available to assist you in proposing a wide range of activities, restaurants and accommodation as well as provide some useful advice and recommendations to ensure your holiday with us is a great success, and that you go back home with memories that will last a lifetime.
Whether you are coming here alone, as a couple, as a family, with friends or with a group, the different departments of our tourist office will be able to help you, depending on your needs and wishes.
3 offices are available to assist you: Valence, Romans and Chabeuil. 
Find out more about the team thanks to these brief introductions and some of their top tips!
Welcome desk and information
Groups, conferences and meetings
Communication & Events
Administration