Are you looking for a reflexologist? Maybe you don't know where to find spirulina in the Drôme? The L'Etoile du Bien Être fair is the perfect event for you! Every year for the past 11 years, this modestly-sized event has been held in Etoile-sur-Rhône, grouping together a large number of wellness professionals.
A date for the diaries!
This unique 2-part event is usually held in March, it is an opportunity to discover some new concepts and will exceed your expectations. For the first part, almost 40 professionals come to present and sell their products, including incense, essential oils, teas/herbal teas, practicians, masseurs and so much more. The second part is called the expression area and it is a chance to take part in introductory sessions, conferences and workshops spread over the two-days of the fair.
You can find the full programme for the L'Etoile du Bien-Être fair, as well as a list of the professionals who will be there, on the website 2 or 3 months prior to the event. During the fair, you'll be able to wander around the event, meet the professionals who are passionate about their trade, take part in workshops and/or conferences (for those who don't necessarily want to participate actively).
You don't need to book tickets in advance, just turn up on the day and the number of visitors will be managed on the door.
At lunchtime you can taste some organic, local & vegan food at the food trucks, run by local businesses (vary depending on the year).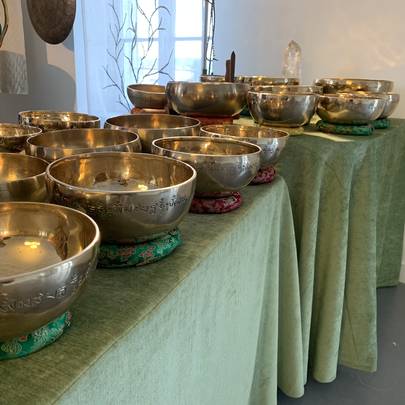 Would you like to participate as a professional?
L'Etoile du Bien-Être fair is usually held in March or April, so you can sign up to participate from August of the previous year. To sign up, you just need to fill out a form telling us whether you want to run a booth, participate as a speaker or run a workshop, and provide the necessary details. To access this form, just click here or contact Valence Romans Tourist Office for the contact details and procedure to follow. Nothing could be more simple, just a few clicks, wait for validation, and that's it!
Whether you are new to the wellness industry or not, you will always learn about something new at this event, in a direct and friendly way!