Bed in Shop la Chaumière
Bed & breakfast
Bed in Shop la Chaumière
Address
1 place Perrot de Verdun
26100 ROMANS-SUR-ISÈRE
Contact
Languages spoken
Description
Le concept Bed in Shop qu'est ce que c'est ? Et bien c'est une superbe idée ! Le principe est de participer à la revitalisation des centres-villes, ici Romans-sur-Isère, en rénovant et en transformant en appart'hôtel insolites des anciennes boutiques vides. Il permet également de faire participer des jeunes du quartier en leur faisant créer certaines pièces de mobilier présents dans les gîtes, et une autre partie est issue de filières de réemploi local comme la Ressourcerie Verte, Emaüs ou la Plateforme. Et le tout pour un résultat super chouette ! Alors n'hésitez pas !
Situé au cœur du quartier piéton historique de Romans, le Bed in Shop la « Chaumière » est un havre de paix préservé. Ce studio est aménagé dans les anciennes cuisines d'un immeuble du XIIIème siècle, donnant sur patio végétalisé. Avec son imposante cheminée et le séchoir à jambon, son authenticité vous séduira. A proximité de la collégiale Saint Barnard et de l'Isère, restaurants et lieux de convivialités vous attendent.
Located in the heart of the historic pedestrian area of ​​Romans, the Bed in Shop la Chaumière is a haven of peace. Near the collegiate Saint Barnard and the Isère, restaurants and places of conviviality await you.
Bed in Shop is a short-term social innovation company. We transform the vacant shops of the historic center into unusual apartments. Each "shop" is dramatized in an old-fashioned business imaginary: bookseller, apothecary, shoemaker ...
Part of the furniture is created by young people from the wood pallet recycled neighborhood as part of a partnership with the Childhood Safeguard.
Another part comes from local re-use sectors such as Ressourceries or Emmaus.
You sleep in a shop ... local products will be on sale in every Bed in Shop, free to you to buy some.
Our ambition is to participate in the revitalization of our downtown by enhancing our heritage for our clientele: business tourism and leisure tourism. Our project is economic, social and ecological. We belong to the world of the E.S.S. (social and solidarity economy).
Welcome !
Sustainable tourism
La durabilité est une des valeurs du concept Bed in shop : nous recyclons, nous transformons, nous ré-utilisons. En d'autres termes, nos hébergements sont imaginés et conçus dans l'esprit de l'économie circulaire. Nous intégrons aussi les habitants dans notre démarche : une partie du mobilier est fabriquée par les jeunes du quartier dans des chantiers loisirs en partenariat avec les éducateurs de rue.
D'autre part, en tant que « membre 1% for the Planet », nous nous engageons à reverser 1% de notre chiffre d'affaires à des associations environnementales à but non lucratif.
Host portrait
Passionné de voyages, d'histoire et de ma ville, j'ai inventé le concept de "BedinShop" pour participer à la revitalisation du centre historique de ma ville : Romans-sur-Isère.
Facilities
Capacity
2 people
Facilities and services
Wifi / Internet access

Television

Parking / Garage
Rates
Two people: from 65 €.
Tax not included.
Methods of payment
Cash
American Express
Bank/credit card
Credit transfer
See also
6 €
Cultural heritage
Romans-sur-Isère
Bed & breakfast
Romans-sur-Isère
7,5 €
Cultural heritage
Romans-sur-Isère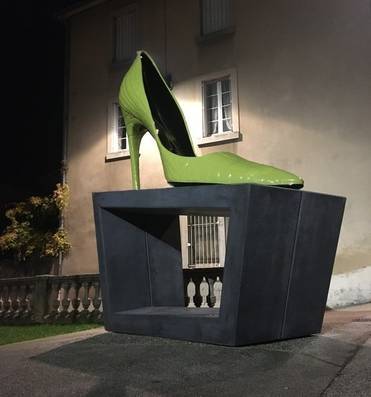 Equipment
Romans-sur-Isère
Restaurant
Romans-sur-Isère