Piscine Camille Muffat
Address
Allée Auguste Delaune
26800 PORTES-LÈS-VALENCE
Contact
Languages spoken
Description
Accessible toute l'année, la piscine Camille Muffat à Portes-lès-Valence va vous donner envie de faire des longueurs grâce à son tout nouvel équipement !
Quel que soit vos besoins (public, scolaire, sportif), vous pourrez profiter des joies de la nage par tout temps via la partie couverte.
Visible de l'extérieur, la halle bassin de 908 m² se compose d'un bassin de natation de 25 mètres sur 5 lignes d'eau, d'un bassin d'apprentissage de 100 m² pour les petits et de 504 m² de vestiaires flambants neufs.
Pour les beaux jours, comptez sur les 2 800 m² d'aménagements extérieurs avec ces espaces verts, une aire de jeux d'eau, un solarium végétal, un solarium minéral, un parvis et des terrasses.
Opening periods
From 02/01 to 31/12/2023
Opening hours on Monday between 8 am and 2 pm and between 6 pm and 8 pm. On Wednesday between 12 pm and 8 pm. On Friday between 12 pm and 2 pm. On Saturday between 2 pm and 7 pm. On Sunday between 2 pm and 7 pm.
Closed Tuesday and Thursday.
Rates
Adult: 2.70 to 4 €
Child (3-18 years): 1.50 to 2.20 €.
Free entry for children < 3 years.
See also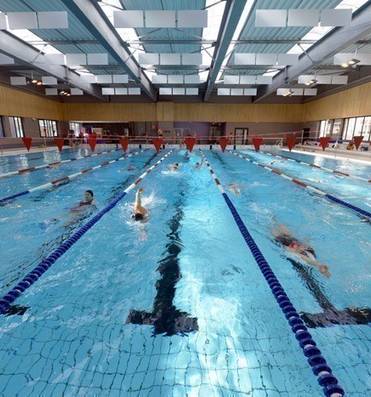 Equipment
Bourg-lès-Valence