Discovering the Shoes Museum in Romans
The Shoes Museum in Romans is inside a former convent, and is an invitation to discover the history of the shoe, from Ancient Times up until today, across 5 continents.
This museum is in Romans town centre with car parks available nearby. I love coming here with my family or with friends who are visiting the area. I've already been a few times and I'd really like to tell you about this inspiring place!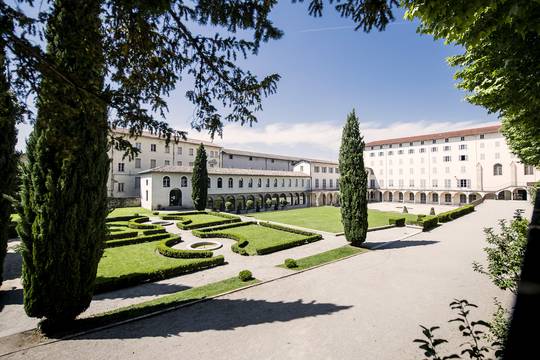 Discovering the Shoes Museum
I remember the first time I went. I was curious to find out about the history of this object we use every day... and which often takes up a lot of space in our cupboards!
As soon as we start our tour, we are plunged into the atmosphere of the venue. It's quite simplistic with old wooden flooring and minimalistic furniture in the chapels that host the exhibitions.
To learn about the history and names of each shoe, there are informative panels for each display unit. I learnt that the sandal made from papyrus plant is actually the ancestor of our modern-day flip-flops. The evolution of the shapes, materials and styles is completely different depending on the country, as evidence of their local habits and traditions!
Surprising creations
There are so many shoes on display, I don't know where to begin!
I'll tell you about some of my favourites. There are a lot of them! First, I love the "poulaine" with its pointy toe! There's also the Venetian chopine, muskateer's boot or the shoes designed for Chinese women. Not-to-mention the boot made from shark's skin and the Indian moccasin that reminds me of Davy Crockett's adventures!
There are also some shoes designed by creators on display … that would be impossible to walk in! I'll let you discover the surprise from one crazy creator yourself! But don't try to take any photos because photography is forbidden here. 
Stroll around the different exhibition rooms
Besides the usual collection, there are also some exhibition rooms devoted to more contemporary creators and shoemakers. There are also temporary exhibitions organised on a regular basis. This gives me an opportunity to see something new every time I visit!
It usually takes me about 2 hours to visit the museum. To make it all the more interesting, I recommend taking a guided tour. Children will be much more attentive and interested. Speaking of children, there are even some creative workshops especially for children. I'm planning on taking my own children, a colleague of mine recommended these workshops to me!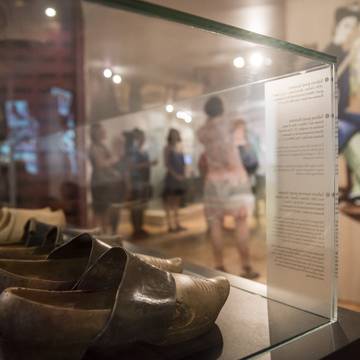 End your visit in the museum gardens
To round off this great visit perfectly, I often take a stroll around the magnificent French-style gardens and have a picnic there. There is often some form of entertainment or shows there, really bringing this beautiful place to life!
The Shoes Museum in Romans is a must-see for those interested in fashion and history and for families. You'll enjoy the diversity of this place and you're guaranteed to remember your visit for a very long time.
New for 2020:
After months of renovation work, the Shoes Museum reopened on the 15th July 2020. The museum's team is preparing a surprise for you. They are preparing new never-seen-before collections, some pieces only very recently acquired: more modern, contemporary items, some of them iconic, items you will be able to identify with, see a reflection of your own style, etc... Among them, the global star, the trainer, represented by so many brands, including the legendary Stan Smith who came back to the market a few years ago. Also on display is the very chic and much sought-after high heeled shoe, represented by French designer Charles Jourdan from the 60s, and Louboutin from the 90s to today.

Each display is accompanied with illustrations, photographs and other sound or video recordings, to add an interactive touch, as well as numerous anecdotes. You'll learn about how Dr. Martens came about, how wedge shoes were created, for which dancer the white Oxford shoes that Gainsbourg was wearing were originally created, which then led to the creation of a more feminine version of the Derby shoe, why are the soles of Louboutin shoes red? And much more...