Jouvet Park, the green lung of Valence
Who has never dreamt of being able to combine heritage sites and nature walks, all in the town centre?
Jouvet Park is one of Valence's must-sees. For a day out, weekend or if you're staying longer in Valence Romans, you will always be guided naturally towards this 7-hectare green haven, right in the town centre. Valence is one of the towns to have been awarded "4 flowers" in the French "Villes et villages fleuris" competition.
Jouvet Park, the lung of Valence
A town is not only made of concrete, tarmac and asphalt. Valence is proof of that with 53 parks, green areas, squares and public gardens. My favourite place? Obviously it's Jouvet park!
It is an iconic place in the town, a veritable green lung. Not many towns can brag about having their very own park with canals, rose gardens, aviary, more than 700 trees, some of which are classified, children's play areas and a venue for temporary exhibitions.
We go there regularly as a family. When my daughter starts running from the Champ de Mars esplanade and Peynet bandstand, it's a sign that we're close to the park.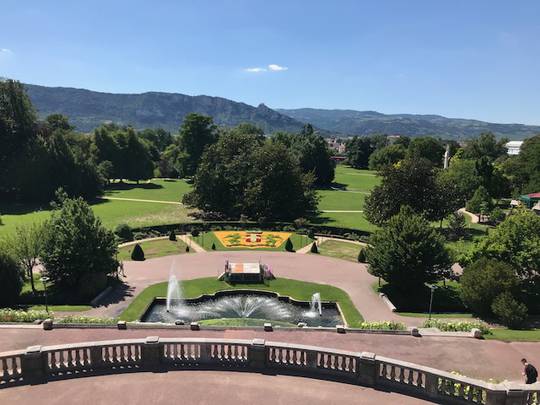 Jouvet Park, a place for all generations
What I love about this place is that it's a place for everyone. Jouvet Park is a small sample of the town of Valence, a condensed part of life here.
Depending on the time and the day of the week, I sometimes see high school pupils eating lunch, couples lying on the huge grassy areas, a new bride and groom getting their traditional wedding photos taken, the older generation taking a moment on one of the many benches in the shade of remarkable trees, as well as people exercising (jogging, cycling or fitness classes).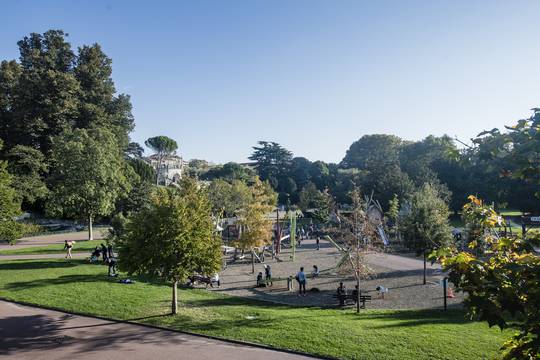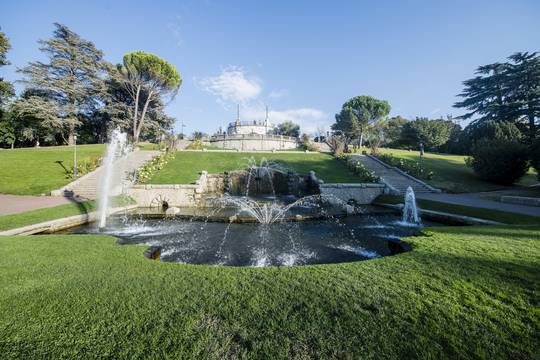 A park for families
At Jouvet Park in Valence, there are always families around, as there's everything you could possibly need for both parents and children to have a good time. When we go there, we always begin by laying down our picnic blanket under the shade of the huge magnolias. Before lunch, we take a stroll along the maze of paths and we head towards the animals of Jouvet Park: the frogs in the pond, ducks waiting to be fed some bread, aviary with parrots and budgies, etc. We go back to our picnic spot after passing by the sheep and goats.
After lunch, there's no time for relaxing. My daughter is keen to play in the children's play areas. She runs off to have fun in this are that has recently been re-done, with little huts, swings and monkey bars. I like the fact that each area has been developed for certain ages.
Younger children can also take a tour of Jouvet Park on a little train straight out of the Wild West. I remember going on this train when I was a child myself and even today, I hear the same Indian war cry echoeing when the train goes through the tunnel. It brings my childhood memories flooding back. Older children can jump out all their excess energy on the trampolines.
We finish our family afternoon with a tour of the exhibition in the Maison du Gardien (caretaker's house). This villa was built in 1908 and reconverted into a venue for temporary exhibitions from 2010, thus adding value to an already exceptional place.
I think you've understood by now, that at this park there's something for everyone. It's a must-see when you're passing through Valence.