Romans Carnival is one of the most memorable events in the childhood of anyone from Romans! It is a real tradition, to be enjoyed with friends or family!
You'll see floats covered in flowers with children throwing confetti and silly string from them and people on stilts who will amaze (or terrify) the children!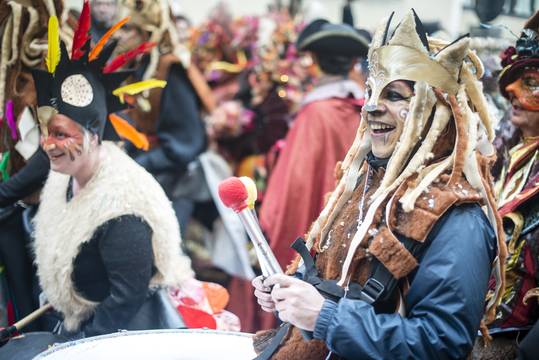 The carnival parade
You'll be surrounded by people in costume, with their face painted and elaborate hair styles. It's fantastic to see the children so amazed, some younger ones overwhelmed to tears by the beautiful, but slightly scary, costumes!
There are usually two different groups of people, those who stay in the same place and watch the whole parade from beginning to end, and those who follow the parade, dancing and clapping their hands.
There will be mobile stalls selling confetti and other festive items. There is also a snack bar with pancakes, churros, candy-floss and other sweet treats!
Burning Carmentran
Carmentran is set on fire late afternoon, this generally takes place at the Place Jean Jaurès. Following the ruling from the court, Carmentran is absorbed by the flames and according to legend, the flames also consume all the woes of the town's residents.
It takes months of hard work from the town's various associations and the local people, to build a unique and original set for this event, on a chosen theme!
Last year, Romans Carnival took us on a journey to meet the migratory stilt walkers, in the land of the Pharaohs, with our crazy suitcase!
Come and see Romans Carnival for yourself! Here is a glimpse of what you can expect at this lively event.