Ravioles is a speciality from the former Dauphiné province made from square shaped pasta with fillings that have changed throughout the years. It is very similar to the Italian ravioli but they shouldn't be confused! The biggest difference is the size, these ones are much smaller. So make sure you don't mix up the two!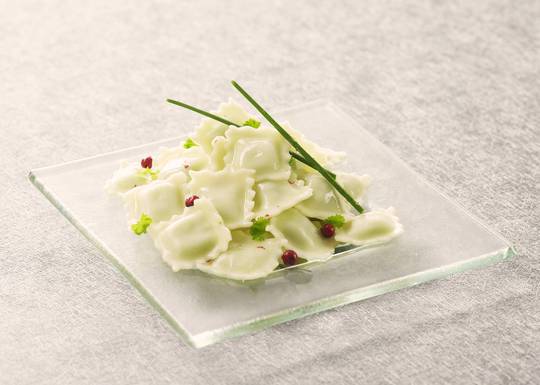 History of the ravioles
The ravioles can be traced back to the Roman era, when this dish was made using meat and vegetables and served for Lent. Over the centuries, the recipe has changed and it is now served as a vegetarian version with cheese and it is a very popular dish.
In the 19th century, ravioles were prepared for celebrations by specialists known as  "ravioleuses", who would go from house to house to prepare them. One of the most well known is Mère Maury, who even created her own brand, and who was most likely the very first to serve ravioles to customers in her café in the centre of Romans sur Isère.
Ravioles ingredients
The thin pasta is made with wheat flour, eggs and oil. But what really gives ravioles their flavour, is the choice of filling. Comté AOC, fresh cheese or aromatic herbs, I like to vary the pleasures!
A top-quality local speciality
This dish can be found on the menu of the local fine-dining restaurants. Here, you are sure to get the most out of the flavours!
Ravioles have had the Label Rouge quality label for several years now. This is an official French certification that guarantees consumers that they can expect top quality from this product, thanks to the demanding list of criteria with regards the stages of production and transformation.
They have also had the Protected Geographic Indication since 2009. To benefit from this, Dauphiné ravioles must be made in a very specific area of the region, between Romans and Saint-Marcellin.
Recipe for ravioles
It's very easy to prepare ravioles yourself. Just go to the fresh pasta aisle of your local supermarket and look for Saint-Jean ravioles. I cook them in stock for just 1 minute and they're ready! This is the easiest and most conventional way to enjoy them. And it's also the quickest. You can decide how you want to cook them, and serve them with the ingredients of your choice.
Ravioles are also delicious when they are fried. This is another way to prepare them. They are delicious served with bacon bits, cherry tomatoes and small pieces of toast with warm goat's cheese from my salad recipe. Delicious!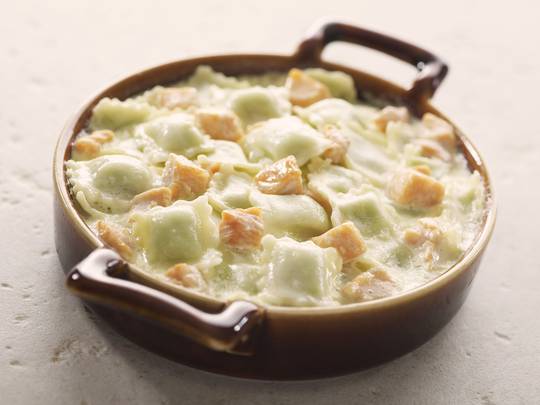 Preparing ravioles
The delicious gratin de raviole takes some time to prepare but it's worth it! I put them in an oven dish with some cream. Then I add other ingredients of my choice such as St Marcellin, bleu du Vercors, morels, boletus, salmon, vegetables, cured ham, parmesan, etc. The possibilities are pretty much endless! I like them to be soft in the middle and slightly grilled and crispy on the outside.
Finally, the ravioles you'll find in the supermarket are often in the form of sheets. They are easy to use if you cook them in water, and more difficult to separate if you want to fry them or place them individually into a "gratin" dish.
My top tip is to freeze them, this makes them much easier to break apart.
How do you like to eat them?