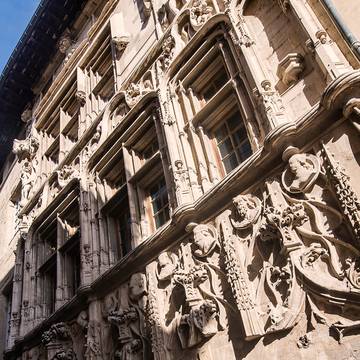 Morning: sightseeing tour of Valence
Come to the Tourist Office at 10am to begin your tour. Pick up the sightseeing map. It is also available on the website . You can now set off to explore the must-sees of Valence:
The Champ de Mars is where you can admire a superb view of the surrounding area and discover one of the most famous landmarks in Valence: Peynet bandstand. This bandstand is listed a historical monument.
The Maison des Têtes has a very surprising design and owes its name to the sculpted heads on the front wall.
Saint-Apollinaire Cathedral is one of the oldest monuments in Valence.
Depending on your pace, you might also have time to see Porte Saint-Ruf, the Maison Mauresque and the Saint-Jean district.
It takes around 2 hours to explore the town on foot. You can also visit the town on Valence's little tourist train in July and August.
Lunchtime: lunch at the Place de la Pierre in Valence
The Place de la Pierre is the ideal place to stop off for a drink. Then you could go for lunch in one of the restaurants in the shade of the plane trees at this square.
The perfect opportunity to taste a local speciality: Ravioles . Take your time to savour this delicious square-shaped stuffed pasta.
Afternoon: a stroll around the parks
To begin your afternoon, head to the harbour . You can get there along the ViaRhôna to discover the biggest river port in France.
Then you can explore Epervière Park along the footpaths. Stop by L'escale de Fonfon for an afternoon treat such as an ice cream and a drink.
Enjoy the view of the Château de Crussol and the Rhône while you're at Epervière park.
On the way back you can also explore Jouvet Park . the children can play in the playground, go on the merry-go-round and see some animals in the small animal park. In the summer you can also take a tour of the park on a little train.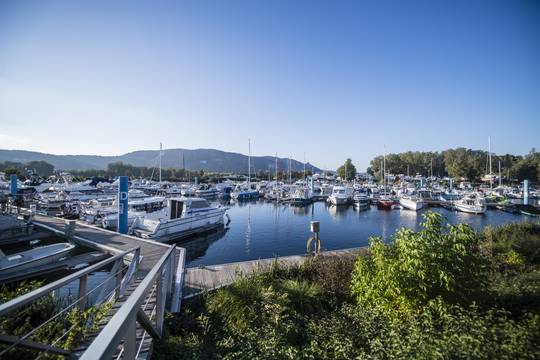 Other ideas for families...